OSHA(Occupational Safety and Health Administration) has recorded that as many as 4,000 deaths occur annually in our workplaces. All types of workplaces are susceptible to accidents – however, with proper safety training implemented, these numbers can be greatly decreased. How can you improve safety training in your company?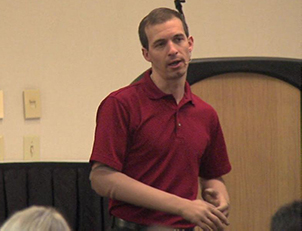 Brad Hurtig was a student-athlete in Northwest Ohio. At the end of his sophomore year in high school, there was a devastating workplace accident which resulted in both of Brad's hands being amputated. He knows and understands the need for your company to receive expert training for your employees, and your understanding of this need is crucial.
Brad overcame this tragedy in his life, and after recovering led his high school football team in defense by recording 111 tackles and receiving all-state honors. His story of overcoming will inspire your employees. Brad's expertise in safety training for the workplace will bring your company up to the standards of excellence you have always pursued.
How Do You Bring this Specialized Safety Training To Your Company?
As a company, you should be always striving to maintain the best safety precautions for your employees. Brad's presentation will leave a lasting impression on employees and staff alike for years to come. He comes highly recommended by several major corporations and will take your Safety Training program to the next level. Brad Hurtig's presentations have been highly successful across a wide range of company types, from factories to offices and everything in between. The message he shares in workplace ethics seminars, safety training, and corporate meetings will enhance your program. Allow your company to implement safety training measures for your employees. Reach out to us today to schedule Brad to speak at your next event. Once you do a member from Brad's team will reach out to you to begin the scheduling process. Brad Hurtig is proud to be a member of the Relevant Speakers Network!