When you sit down to discuss your company's priorities for the upcoming year, you will most likely focus on income growth, inventory management, and client retention. However, it may also be a good idea to take a minute to consider your workplace ethics. Doing so could save you a lot of cash.
If your organization does not have a strong set of values in place, you are likely to experience difficulties like bullying and sexual harassment before too long. These issues can disrupt your working environment - causing an abatement in productivity and a reduction in profitability.
Depending on the severity of your company's challenges with harassment and bullying, you may also find yourself on the wrong side of a plethora of lawsuits. These suits can cripple your organization's professional reputation and may cost you tens or even hundreds of thousands of dollars to settle.
Workplace Ethics - How to Define Your Company's Values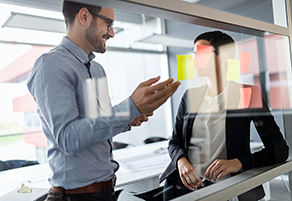 Now that you know more about the perils of lacking organizational values, you might be wondering what you have to do to develop better workplace ethics in your shop, factory, or office. Fortunately, the solution is relatively simple. All you need to do is enlist the services of an experienced speaker like Brad Hurtig.
Brad will come to your workplace and speak to your employees about the importance of maintaining a strong set of moral principles and giving their colleagues the respect they deserve. He can also help them improve their overall attitude toward their jobs.
Do you want to have Brad come to your location and talk to your workers? If so, please do not hesitate to fill in our contact form and send us a short message letting us know which dates and times work best for you. We will get back to you as quickly as possible to shore up the details. Brad is proud to be a member of the Relevant Speakers Network!