It has been recorded that over 3 million workers are injured in the workplace annually. Those are staggering figures! Brad Hurtig was one of those 3 million. A horrible workplace accident caused him to lose both of his hands as a teenager. Brad worked hard to overcome this tragedy, and now he works with equal enthusiasm to inspire others. As a corporate speaker, Brad works with companies to prevent workplace injuries. You want workplace safety to be a top priority for your company!
Many companies today, rely on out-of-date presentations for their safety training. Brad's mission is to bring a fresh new approach to workplace safety and, due to his experiences and life lessons, his presentation is more realistic. As he relates his story to your employees, it will be apparent how significant safety regulations can be to you and the success of your workers. His expertise will encourage you to improve your standards to create a safer, healthier, and more efficient environment for your company and employees.
Workplace Safety Success is Just Around the Corner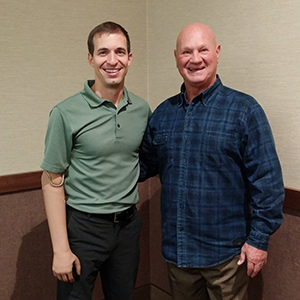 Brad will discuss how your company can prevent workplace accidents, and keep them from happening in the future. His message is serious, but his presentation invites the audience to laugh along with him while sympathizing with his experience.
Brad will bring crucial facts to light about safety in the workplace. He will inspire your workers while educating them on how to remain safe in their work environment. His goal is to allow your company to view a realistic approach to improving the environment for your workers and improving your safety regulations.
His presentations have been highly successful, with seminars at companies like Colgate Palmolive, Toms, Lincoln Electric, and Nova Chemicals. Do not allow your company to become part of the statistics. You can book Brad for your next workplace safety training – reach out to us today to discuss having Brad speak at your next event. Brad Hurtig is proud to be a member of the Relevant Speakers Network!