Brad Hurtig is a corporate speaker who will connect! His life experiences have given him a real-life story that will engage your staff, not only because of his heart-warming message but because of the sincerity of his words and experiences.
As a Corporate Speaker, Brad Will Engage Your Staff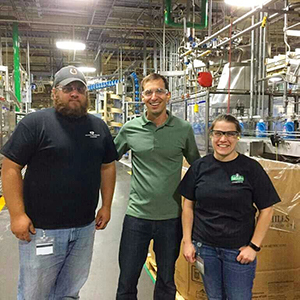 Brad has had a life-altering experience with a workplace accident. Anyone can stand on a stage and read safety protocols off of a manual, but Brad is different. He will not just bring "facts" and "book stats", he understands what is important and the measures that need to be in place to protect your co-workers and staff. With the loss of both his hands in an accident involving heavy machinery, he has learned how he can still function and make a major impact on the lives of those around him.
His insight and courage will strengthen your staff and encourage them to be more aware of their need for security measures in the workplace. He will motivate each one listening, and give you, as the employer, a better perspective on the importance of workplace safety measures.
The Next Important Step – Schedule Brad Today!
Your next step is to schedule this unique and engaging Corporate Speaker for your next meeting! Brad will make your next meeting unforgettable, and make a major impact on your staff. His presentation is professional, personal, and inspirational. He will encourage all who hear his message to observe and defend workplace safety. Make the most of your next Corporate Event with a fun and entertaining speaker! Schedule Brad today. Contact us today – this highly skilled, highly motivated young man will change your work environment, and inspire your employees to strive for the highest level of safety practices! Brad Hurtig is proud to be a member of the Relevant Speakers Network!